Woodard Development announces new office park development in Beavercreek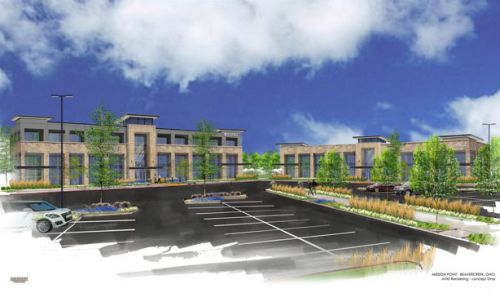 Beavercreek, Oh--Woodard Development has announced plans to move forward on a new development in Beavercreek in response to a surge in demand for additional space in the area.
Woodard has teamed with local brokerage firm Apex Commercial Group to begin actively rolling out Mission Point 2.0, an expansion of the original Mission Point development at 2601 Mission Point Blvd. (off of Col. Glenn Highway), which reached full occupancy last year. Apex, which strongly finished its first full year as an independent brokerage firm, has signed on as the exclusive broker for the property.
"This market is demonstrating strength that hasn't been seen in several market cycles.," said Jason Woodard, principal of Woodard Development. "The initial interest has been incredible, and we expect this project to move forward rapidly."
With the announcement of the project, Woodard has also released two renderings for the property, which show plans for two large office buildings. Savino confirms multiple parties are in negotiations and depending on how those play out, the buildings will be between 60,000 and 120,000 square feet.
"Defense contracting is booming, as we know," Savino said. "We see this in the popularity of office space throughout the region, but especially here in Beavercreek. The addition of new office product at Mission Point will create additional opportunities at a prime location, just outside of the gates of Wright-Patterson Air Force Base, for many interested companies."
Savino said interest has been extremely high in the development, which the brokerage firm hinted at as a possibility last year after Apex Partner Steve Peters filled the last available space at the existing building. That demand led Woodard to push the project concept forward quickly, preparing to transition into the execution phase.
"Because of the number of interested parties, plans right now are flexible," Savino said, acknowledging the buildings might waiver between two and three floors each. "But what we know for certain is that the demand exists to support this project."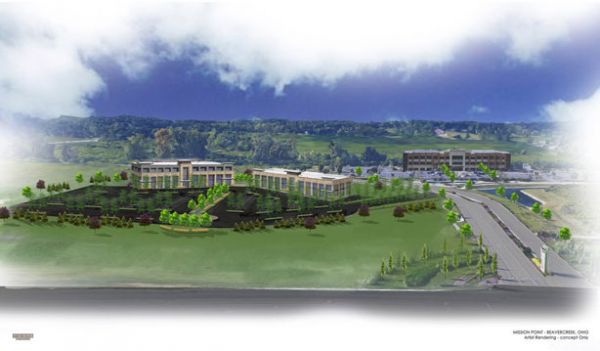 Woodard Development continues to create opportunities for the high growth segments of technology and defense. The developer announced last year the popular The Avant-Garde on Third Street in Downtown Dayton has reached full capacity, and its neighbor The Manhattan, which received necessary tax credits is pushing forward with a completion goal of January 2021. That building, just announced in Q3 2019, has already received commitments from several technology and defense providers.
"The market is strong," Woodard said. "Our mission is to ensure the Dayton region continues to have the buildings and infrastructure it needs to attract and retain these important companies as they grow. Mission Point 2.0 will be an incredible asset as we continue to support the defense sector."